What is a VPS?
VPS, or a Virtual Private Server, is a virtual server that the customers understand as a private server, despite the fact that it is installed on a Personal Computer (PC) that operates on several operating systems. A Virtual Private Server is also known as virtual dedicated server, or VDS.
For users, the idea of a Virtual Private Server or VPS can be better understood as a virtual machine that provide the individual needs of a clients; this concept is the same as a separate Personal Computer (PC) that is established for a certain user. The VDS offers the same functions and privacy, the same as that of a normal physical computer. There are various VPS, Virtual Private Servers, can be developed on a single physical server with each private server performing on its own operating system.
In simple terms, a Virtual Private Server is a virtual server that is installed on one physical computer, but operates on several websites at once. A single computer can consist of various Virtual Private Servers, each one of them have its own operating system that executes the hosting software for a certain user.
Some brokerage firms that use Virtual Private Servers that are well-known in the financial services industry, include: IC Markets and XM Group.
Resources of Virtual Private Servers 
There are five main resources that are required to successfully apply the VPS to a user; these resources are the Virtual Private Server (VPS), the MetaTrader4 trading platform server, the Internet, an Expert Adviser (EAs), and the trader themselves. The VPS is a physical computer that is utilized for running trading software and expert advisors, which provides support almost 99.9% uptime connections with FX brokerage firms. The VPS can be controlled either from a Personal Computer (PC) or a smart-phone device, from all over the world.
The MT4 trading platform is necessary, as it is software that is run by FX brokers that operates trader's market requests and information on liquidity. The Internet is also a cornerstone for trading because it is used as a form of connection for both scenarios, with or without VPS trading. However, the connection is more commonly stable, if VPS is involved. For EAs, it is a specialized trading program that is run by trader's Forex client application that permits trading operations with full automated options. The final component is the trader themselves; since they define the trading decisions and execute quality trading solutions that are acquired through VPS allocation.
VPS in Forex Trading
VPS in Forex trading means the use of a Virtual Private Server whilst operating in Forex trading. Traders, especially those with skill and experience, state that FX trading with the help of a VPS is extremely beneficial and hassle-free. They don't have to worry about interruptions, bugs, and loss of connection, if they have VPS. One of the best brokers that offer quality VPS in FX trading is IC Markets, a leading broker that was based in Australia.  
VPS also allows Forex trading to run smoothly, faster, and help in making accurate trading decisions. The question most traders have is how does it work?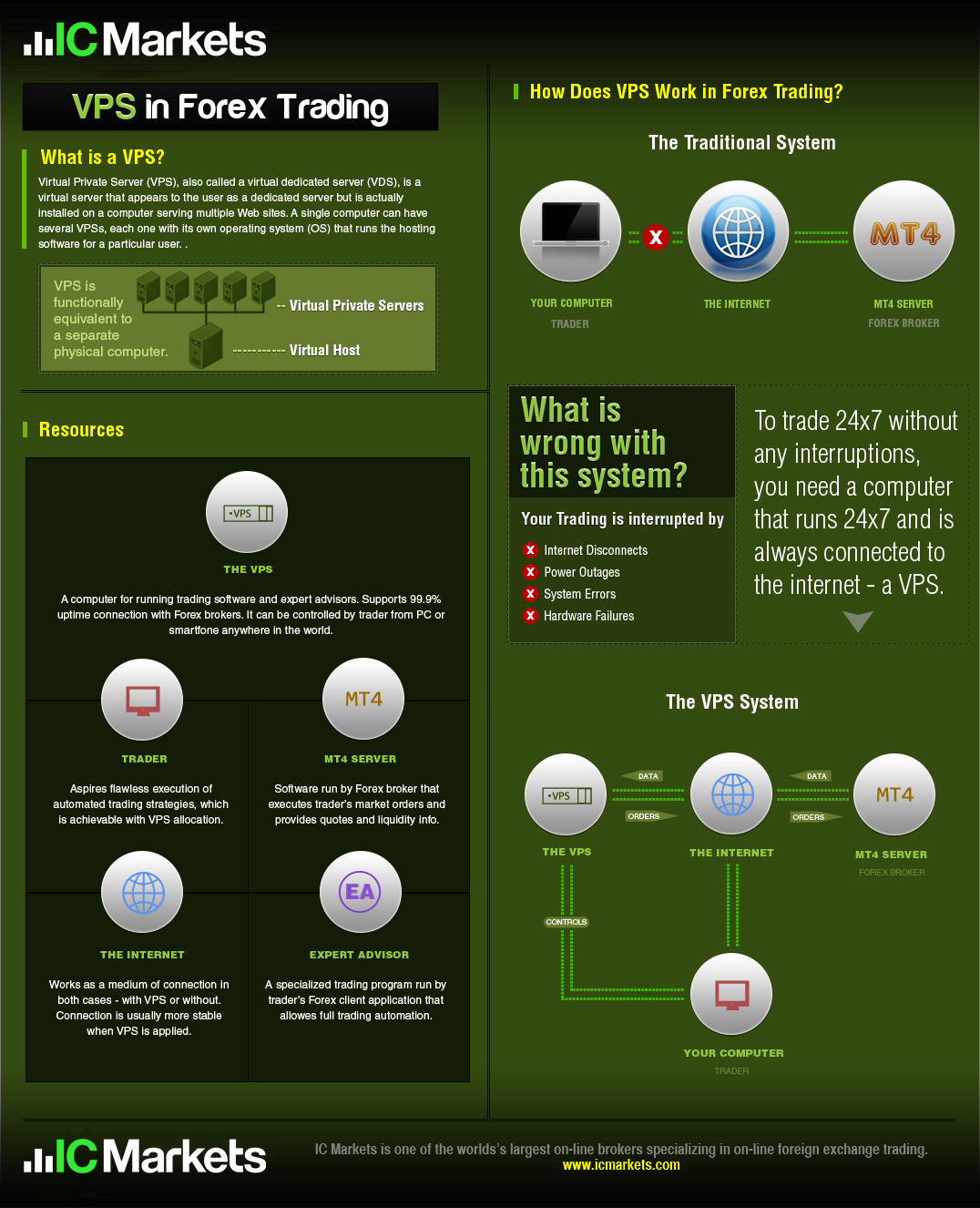 How Does Virtual Private Server in FX Trading Work?
Traders from institutions tend to pay considerable fees to ensure their trading engines in close contact to the trading engines where they obtain their news trades. The majority of retail traders are not able to come up with the fees that institutional trader's pay, which has resulted to an increased demand in Forex VPS financial services. Forex VPS services offer access to advanced facilities that offer twenty-four hours of trading at drastically lower costs than a facility in a different location. Retail traders also find advantages from a website host that offers stability, accuracy, and speed that is needed for trading software today.
With VPS, there is a direct and easy way to use it in Forex trading. The connection is a direct line of contact between the trader and its Personal Computer, the internet, and a trading platform server. Without a VPS, there could be many issues that might take place between the PC and the computer. Users can have their trading interrupted due to the disconnection of the internet, power outages, operating system errors, and\or hardware failures.
To ensure that the trading operations follow through uninterrupted, it is best to obtain a computer that runs 24\7, and it is always connected to the internet; this is the simple definition of a Virtual Private Server or VPS.  
Benefits and Drawbacks of a Virtual Private Server
There are many benefits that comes with FX trading and VPS, benefits that cannot be found anywhere else. The first advantage is that users can trade anywhere; all they need is a device that connects to the VPS. Whether it's at the home office, or stuck in traffic, a VPS makes it easier and a viable option to trade anywhere and at any time. The second benefit is the ability for users to trade, even if there is a malfunction in the electricity. Traders who utilize VPS during FX trading depend on automation for their trading operations, which means that users can still trader even when it is not being monitored.
The third benefit is that users are fully protected by quality security services. VDS systems take security and privacy very seriously, so they provide users with the best security there is. Virtual Private Servers also regularly track interactions and transactions on the system to ensure the functionality of the server. Along with online security and a much-needed monitoring and evaluating check-up, Virtual Private servers provide traders with a free antivirus and protection tools to protect their systems from any malfunction. The final benefit is that VPS systems reduce your slippage, since it operates trading requests faster because of its rapid execution speed and transmission of orders. With VPS, users will not experience a delay and their slippage will be reduced; this also leads to the decrease of financial losses and volatility.
The only drawback that comes from a VPS system is that the systems take place, only as automated and not as manual executions or operations. If a trader prefers to trade manually, then a Virtual Private Server is not the server for them.